2018 Michigan Speech Coaches, Inc.
Guest of Honor is
Carole Bennett
MSCI will honor Carole Bennett for her dedication and service to the speech community as this year's
Guest of Honor recipient.

​Carole Bennett has been teaching and coaching at the collegiate level in the state since 1984. She started at Eastern Michigan University as a coach, and then became an Assistant Director and ultimately a Co-Director of the award-winning EMU Forensic Team. She is proud to have been part of a team that has such a legacy, and every year she was there, the team was either first or second in the nation. Since 1990 she has been teaching and coaching at Oakland Community College, and she has had a national champion, and multiple regional and state champions. Since 2008 she has served as the Michigan Intercollegiate Speech League Executive Director, and hosts a biennial, multi-school workshop about collegiate forensics that is free and open to the public.
(Check the schedule at https://michiganspeech.wordpress.com/)
​
Carole is thankful because she has gotten to work with so many talented, intelligent, and wonderful students who she still enjoys staying in contact with.


The Guest of Honor is selected by the President and approved by the Board of Directors for recognition
at the MSCI Spring Conference at Mackinac Island.

Past Guests of Honor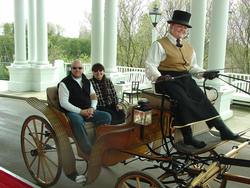 2015: Kathryn Brown-Ashley, Utica High School
​Pictured with her husband Chuck Ashley
---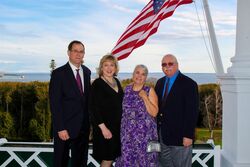 2014: Kathi Pasquantonia, Novi High School
(pictured with her husband, and MSCI President David Bassett & wife Peggy Basssett)
---